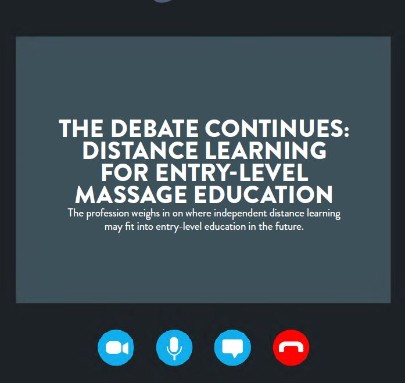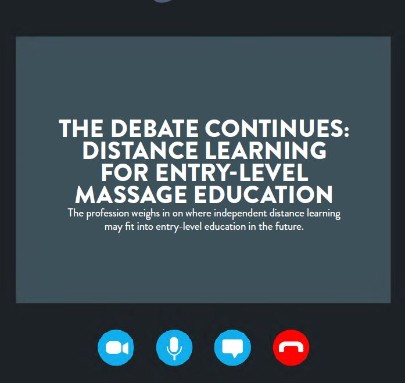 The Debate Continues: Distance Learning For Entry-Level Massage Education
The Debate Continues: Distance Learning For Entry-Level Massage Education
COVID-19 affected over 1.6 billion students' learning environments worldwide. In August 2020, 39 percent of entry-level students in the United States indicated they would prefer distance learning to in-person learning environments, according to educationdata.org. For massage therapy schools offering entry-level education during 2020, 54 percent of massage schools or programs had to cancel classes or close their school at some point. By October 2020, 91 percent of massage schools were open again in some capacity.
One trend that happened over that period was a new openness to online education. According to the American Massage Therapy Association's (AMTA) 2020 School Survey, 47 percent of schools offered some online training as a component of their entry-level program, up from 14 percent in 2019. Because of the limitations of meeting in person at the peak of the pandemic, many states allowed schools to shift some courses online, many with restrictions on the total number of hours or the specific topics that could be taught virtually.
Looking ahead, massage therapy schools have varied opinions when it comes to distance learning and its merits. We asked massage therapy educators about their experiences over the last year and what they see for the future of entry-level massage therapy education.
Shari Aldrich, LMT, president of Bodymechanics School of Myotherapy & Massage and interim president of Alliance for Massage Therapy Education explains her view of how hybrid learning may continue to play a key role in entry-level education. "Technology will continue to play a role for entry-level education," she explains. "For our school, we've installed a special camera system and mounted TV's on the wall so students can see demonstrations without having to huddle around the massage table. We've also moved away from paper exams and are using computer programs to administer exams," she says. "The perks? Less time grading exams and more time preparing students for the MBLEx."
Aldrich also mentions how hands-on classes that are tricky to teach in a fully remote environment actually succeed when you're able to invest in the right technology, even though being in-person is ideal. "I found that using two cameras helped the students to see what I was doing from two different angles," she explains. "I would then put the students in a breakout room so I could do 'rounds' on Zoom and see what they were doing. I then could ask their partner to give me feedback on the student's work. It was a work-around and not ideal for entry-level education."
An unexpected teaching opportunity to come from this time for Aldrich was demonstrating to students how to effectively use Zoom and other online methods when conducting interviews or doing wellness checks online with clients. "I also really enjoyed teaching students how to interview clients online and how they can teach self-massage online to help their clients manage pain. One student stands out in particular in that Zoom school taught her how to help her mother in Russia who had shoulder pain."
Aldrich believes that massage education is best taught in person. However, the lessons learned during COVID-19 have offered an opportunity to see how best to incorporate technology in the classroom.
Celina Sahagun, director of CalCopa Massage School, explains how using communication software and PowerPoint along with exam updates are some of what she would like to see continue in the future. "I know one teacher who would like to continue using Edmodo as a way to continue communication and give students some assignments," she explains. "We have also made some magnificent PowerPoint slides that have now gone into the classrooms."
Working on test taking methodologies for entry-level students has also become a top priority. "This has been a sore subject because some believe [the tests] to be too difficult. During COVID, because the tests were online, I had to change the test questions," she explains. "I couldn't give our old test with a picture of a muscle and ask the student to write the name. I know we would like to believe no one would cheat, but it would be too tempting and I did not want our instructors to have to monitor," she explains. "I took out the photos and asked students how to identify a muscle by using word questions. This required the teachers to teach differently, the students to learn differently and have more critical thought, which is more in line with the MBLEx anyway."
In general, Sahagun thinks offering classes online helps students who prefer to learn that way. "I believe that anything that can be taught kinesthetically should be made available," she says. "Pathology could probably stay online since we would only have images and videos that aid in teaching diseases. We also have a business class that doesn't offer anything kinesthetic."
However, when it comes to the entry-level program, Sahagun doesn't think online education is the best approach. "I don't think this program should be taught online. There are too many factors at play here and standards that need to be accounted for," she says. "The California Massage Therapy Council has our school turn in hours of completion. While online, as easy as it may seem to log in, caused many issues with attendance and participation. We had students thinking they could drive around and run errands while in class. I did not feel comfortable asking those students to participate while driving. I would have felt better having them log off and once they arrived at their location, come back to class. I know this seems like a simple solution of making a policy, but making policies is harder than you think. Plus, how would I define 'participating' on Zoom? It is just easier to have the student in the classroom that way we can account for the required hours needed." She adds, "You learn so much from receiving and you are very limited to that if you are distant learning. If you are in class physically, you are working with other students and get to trade a lot. This is so valuable."
Dr. Jeffrey Montoya, founder and president of Academy of Health, Inc., whose doctoral research focused on the relationship between online education and entry-level massage therapy education, says the biggest challenge schools face both pre-COVID and post-COVID is the number of students entering massage school, something he believes would be remedied if the school environment were more flexible. "More flexible formats of education delivery (such as those that include online learning) can help attract students to the profession," he explains. Montoya notes that any theory-based topics, like pathology or business, could be better suited for online learning. "It seems obvious that hands-on manipulation of soft tissue (massage) should be taught in-person. However, I think it is misguided to go down the path that it is okay to teach certain topics online and better to teach other topics in-person. I believe that both theory and practice can be taught effectively in both online and in-person formats with the right instructional design. For other disciplines, such as nursing, we can see examples of physical activities, like administering a physical examination, being taught effectively online then practiced in a clinical environment."
Montoya believes that investing in quality instructional design is really at the core of this conversation. "I believe that for the advancement of our profession, we need to invest in quality instructional design and innovative ways to train future massage therapists. This includes the use of online learning. There is a lot of research available from other health professions, which can help us create these programs. It is also important to track outcomes to be able to compare the results of students who complete traditional and blended programs."
Kathy Skubik, executive director of Irene's Myomassology Institute, remembers how her state of Michigan shutdown for three-months and overnight changed their school's learning environment. "Prior to the three-month shutdown in Michigan, we had never done online training. Fortunately, the Department of Education gave us a lot of flexibility. We utilized Zoom out of necessity. We had a couple hundred students who were all in the middle of their program. About 35 percent did not go to their classes online because that wasn't what they signed up for. We put those students on a leave of absence and after the shutdown had them come back and rejoin at the point they left off. That created some chaos."
Skubik doesn't oppose online education, but also doesn't think it fits the profession. "People in massage school are here because they like hands-on and visual education and thrive in that kind of environment. They like a lot of interaction between the students and teachers," she explains. "Even though some of the students liked the convenience of being at home or not having to drive to school, the profound experience of receiving human attention and touch is lost. It is very important for students to not only see, but experience what a technique feels like. Many students lived alone and had no one to practice on," she says.
She also shares how from the teacher's perspective, it was difficult to have a class discussion online. "There are students who probably had questions who didn't ask them because they were on Zoom. I think having a classroom discussion is impeded online, because it limits follow-up questions and fellow students cannot hear what one another are saying," explains Skubik. "Online is definitely not for hands-on classes because you need a teacher there next to you making sure you have a full grasp of what you're doing. Besides that, our school thrives on providing an amazing environment. The culture we provide is life changing for students and I would never want to take that away. People who are drawn to massage therapy prefer human interaction. If their personality type preferred technology, they would have chosen a different profession. I was surprised to realize how many of our students did not even use their email!"
However, there was a silver lining that came from this experience for Skubik and the classes that were recorded. "We have all those anatomy and pathology courses recorded," she explains. "So, if a student is struggling, it's nice to now be able to give them those recorded lectures as an additional resource."
The Pros and Cons of Independent Distance Learning in a Hands-On Profession
Two veteran massage therapists reflect on the value distance learning can add to the massage therapy profession, as well as where—and when—learning remotely might not work.
Felicia Brown, LMBT, points out how important it is to stay connected through synchronous, or live, sessions. "Online classes can be well done," she explains. "However, they are better and more rewarding when there is some group engagement and conversation rather than just a taped lecture. It also helps to keep it interesting with good visuals and breaks from the screen with longer classes."
For Jeffrey Forman Ph.D., BCTMB, CMT, virtual learning is not where he sees the future of entry-level education. "This is a profession of human connection and interaction," he says. "You don't get that working on a computer through interactive distance learning. Being in a classroom and being able to develop relationships with the instructors, the teacher's assistants, and camaraderie with fellow students—while also working on a team together on projects—doesn't happen with distance learning." Forman also adds, "I believe certain classes can be instructed online, but before we jump totally on the distance learning bandwagon, we have to assess the quality of the graduates, who were trained with interactive distant learning during the pandemic," he explains. "My three areas of concern are the quality of their hands-on skills, interpersonal communication abilities, and career longevity."
Read More on Trends in Massage Education:
Is Massage Education Ready for a Hybrid Model?
Tips from Massage CE Instructors
(Online Exclusive) Back to Practice: Massage Rebounds Summer 2021