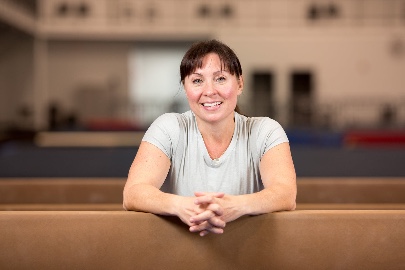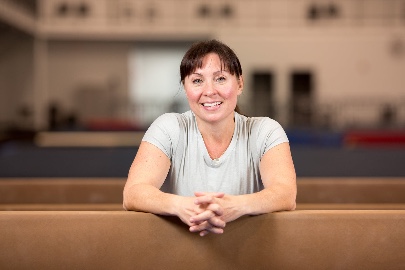 From Athlete to Massage Therapist
By Danielle Galian, Contributor
July 2, 2021
From Athlete to Massage Therapist
By Danielle Galian, Contributor
July 2, 2021
Ask any kid what they want to be when they grow up and you'll get a host of different answers. For Shania Sonneville, LMT, the answer never changed: She wanted to be a competitive gymnast. "I started gymnastics when I was four and by age 16, I was ranked nationally with other college-bound gymnasts," she recalls.
Realizing her lifelong dream, however, came with the same challenges most every athlete faces during their career, including injuries. Eventually, Sonneville's body had had enough and she left gymnastics—at least as an athlete. The career path she found kept her close to the sport she loved and gave her a way to work with athletes whose passion for gymnastics matched her own.
Grace, Perseverance, and Dedication
Sonneville runs through the injuries she sustained as a gymnast the way others check off things on their grocery lists. "A lumbar spine compression fracture, two torn anterior cruciate ligaments (ACL) in my knees, surgeries, multiple ankle sprains, and a concussion," she explains, and those are just the major highlights. She admits most should've been career-ending, but keeping up with physical therapy helped her enough to keep her competing. "My mom always worked on my super tight traps [with massage therapy] and did Epsom salt ankle massages in cool water to reduce swelling from sprains," she remembers.
At 31, Sonneville retired from competing in gymnastics, but her passion for athletics hardly waned. She pivoted to coaching with the United States of America Gymnastics (USAG), where she is a pro member. "I currently hold a women's and men's pro membership, which allows me to be on the floor at competitive events and coach athletes from my gym," she explains. Sonneville is certified to coach all levels, from toddlers to beginners to competitive gymnasts.
From Gymnast to Massage Therapist
While coaching and working with competitive gymnasts, Sonneville noticed a need for musculature education and muscle balance education within the sport of gymnastics. "I saw so many gymnasts with a rounded shoulder posture and anterior pelvic tilt," she explains. "I wanted to learn how to help correct that with stretching, so I was drawn to massage therapy."
It was at this time that Sonneville entered into a full-time massage therapy program in Rochester, New York. As a massage therapy student, she focused on rehabilitative work using orthopedic and myofascial release techniques with athletes and non-athletes alike.
"Athletes seek out [massage therapy] because they are typically in pain or want to be proactive and prevent an injury," explains Sonneville, also noting that similar to her own experience as a gymnast, physical therapists continue to recommend massage therapy as an additional treatment option.
Sonneville still enjoys various movement-based activities like ballet, yoga and walking. "I love trying different sports even if for a short time," she explains. "It helps me understand the movement patterns and physical demands of each sport so I can apply that experience and knowledge to my clients."
The Power of Persistence
As an athlete, Sonneville is no stranger to persistence and its power in overcoming adversity. As a first-time business owner, her persistence was tested during the early days of COVID-19. "On March 2, 2020, I posted on Instagram, 'It's a great day to start a DBA! (or Doing Business As).' I was full of excitement and plans to open a sports-based massage practice—Sport and Swedish Muscle Therapy—out of the brand new Bright Raven East Gymnastics Training facility in Victor, New York," remembers Sonneville.
That initial excitement dimmed as the scope of the pandemic became more clear and businesses were being ordered to close their doors. "I was about to embark on putting together all my years of coaching gymnastics and doing massage therapy into my ultimate dream business and for a moment that process was paused," she says. "I kept thinking, 'I didn't come this far to only get this far.'"
Sonneville did what many people did in those early days—she kept patient and looked for other opportunities to pursue, including continuing education. "I took every opportunity to take online courses that had plummeted in price because there were no more in-person classes," she explains. Sonneville also spent those few months designing her company website and ironing out business details that she may not have had the time for otherwise.
In June 2020, New York massage therapists were allowed to begin seeing clients again. As an extra precaution, Sonneville waited an extra month and opened her new business alongside the gym's reopening. "I opened my door for the very first time in July 2020 and remember being slightly nervous with all the new regulations," she remembers. "I must have read our state requirements a dozen times and made sure I had all the correct supplies."
A year later, Sport and Swedish Muscle Therapy has grown and Sonneville sees almost 50 clients on a regular basis and 100 clients have visited since it opened. From a marketing perspective, she admits not being face-to-face at sporting events or sports expos has been challenging. But, with social media, her business gains traction via online searches and word of mouth.
"I try to run Facebook ads regularly and send out monthly communication emails, as well as run promotions each month," she explains. "I am only setting goals based on my own growth and don't compare myself to other businesses. This past year, however I look at it, is a baseline for growth moving forward." Sonneville also offers on-site massage therapy to the many gymnasts at Bright Raven Gymnastics, including a lot of flexibility training. Pulling from her personal experience as a gymnast, Sonneville understands the need for athletes to use massage therapy. "I have been in situations when sports massage is the best option for an athlete being able to continue training or competing that day," she says, and the flexibility training has been a great tool in helping athletes become more aware of their bodies and their posture.
Keeping Athletes in Top Shape
In 2009, at the USAG region 6 Congress for the Women's Gymnastics Junior Olympic Program, Sonneville organized a clinic for fellow gymnastics coaches on overstretched and underused muscle groups, using her dual experience as a massage therapist and certified gymnastics coach to help other coaches better understand their athletes.
In addition to myofascial techniques used on her clients, other common massage techniques Sonneville uses are positional release and flash cupping, keeping in mind the situation and demands of each athlete. "I have also incorporated active isolated stretching, reciprocal inhibition, rocking and compression," she explains. "There are so many variables in sports massage to consider."
Sonneville encourages other sports massage therapists to diversify their offerings and have a good grasp of the foundations of each technique they use. "The best advice I have is to be educated in many different modalities and be very spontaneous and creative with recalling that information and being able to position your client appropriately," she adds.
Sonneville's Gymnastics Background
As a lifelong gymnast and athlete, Sonneville's experience and professionalism have helped her gain added perspective when helping athlete clients. Her accomplishments include:
SUNY Brockport Gymnastics Team
All-American on Beam 1996
USAG Professional Member since 2000
USAG Professional Instructor since 2000
2002 Empire State Games 5 Gold Medals
2007 Empire State Games Gold Medalist
Like This Article? Keep Reading:
Doug Bertram of Structural Elements on Connection and Community
(Online Exclusive) Back to Practice: Massage Rebounds Summer 2021