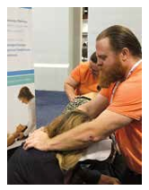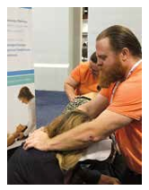 American Massage Therapy Association (AMTA) volunteers and government relations staff attended the National Conference of State Legislatures (NCSL) annual Legislative Summit this past August. The Summit provides an opportunity for state legislators, their staff and other government professionals from across the country to network with their peers, learn from industry experts and attend educational sessions. It also gives industries the ability to get in front of lawmakers from across the country in one centralized location - more than 200 companies and organizations from a variety of industries participated as exhibitors.
AMTA used their time at the summit to advocate for the association's priority issues in advance of 2020 state legislative sessions. Three massage therapists from the Tennessee Chapter participated in providing complimentary chair massages to a wide range of attendees. Interest peaked from state legislators regarding AMTA's federal level efforts on advocating the benefits of utilizing massage therapy as a nonpharmacological therapy for treating pain.
----------------------------------------------------
For more legislative information, read our story on MACPAC.