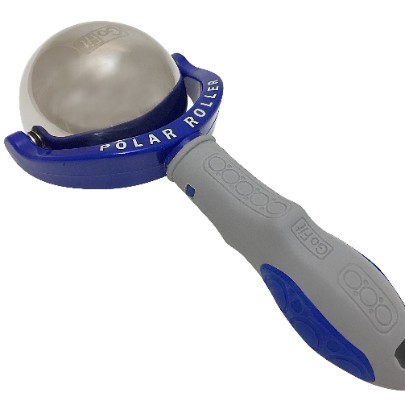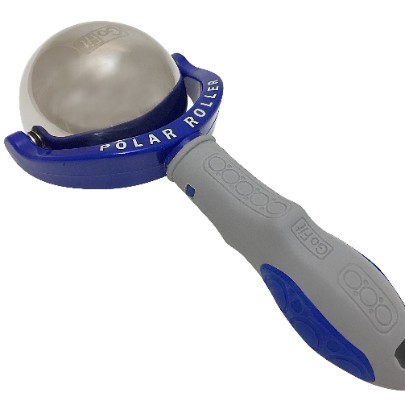 Product Round-Up: Self-Care for Massage Therapists
Product Round-Up: Self-Care for Massage Therapists
GoFit Polar Roller
The GoFit Polar Roller provides targeted cold rolling massage therapy to help reduce joint inflammation and muscle pain. The roller features a stainless steel massage orb filled with a non-freezing alcohol-based liquid that provides long-lasting cold massage therapy. The Polar Roller features a detachable rubber sleeve that can be removed prior to freezing to allow hands to stay warm while gripping the ergonomic handle during use. The roller can help with pain and inflammation related to shoulder and rotator cuff pain, carpal tunnel, tennis elbow, plantar fasciitis, and more.
Fenix Rehab System Deluxe Model
The Deluxe Fenix Rehab System consists of a large stable platform (made from HDPE) with 16 soft-rubber tipped interchangeable therapeutic digits of various sizes. The digits can be used alone or in pairs to apply therapeutic pressure to release myofascial trigger points. The product allows the flexibility to set the digits at various depths and angles so users can control the amount of pressure applied to effectively treat trigger points anywhere. The system comes with a step-by-step 20-page Pictorial Guidebook and the 90-minute DVD that is chaptered by problem area.
Trigger Point Self-Care Manual
The Trigger Point Self-Care Manual, written by Donna Finando, L.Ac, L.M.T., is a guide to the treatment of pain from common sports injuries and other physical activities. It contains at-home techniques to promote healing and self-awareness of the body's musculature, explains how to relieve pain using manual massage in conjunction with small physio balls, and includes an illustrated treatment reference section organized by region of the body. Finando identifies the causes of and remedies for areas of muscular tightness and restriction and details many self-care techniques, including precise self-massage, stretching, and the use of wet heat and/or ice.
Lifepro Legra Hand Massager
The Lifepro Legra Hand Massager is a portable, adaptable Shiatsu pressure massager with five massage modes and five intensity levels, ranging to 200 Hz for customizable support and relief with an intuitive LED control panel. The warm pressure point relief massager uses compression therapy to improve circulation and provide hand and finger pain relief. The massager uses gentle pressure, heat, and vibration to help improve finger numbness, joint soreness, pain from arthritis or carpal tunnel, and relax the hand after a day of work. The cordless massager provides up to four hours of power.
Oval-8 Finger Splints
Made with 3-points of pressure, Oval-8 Finger Splints use an open air design that requires no tape or straps to use. The splints can be used to treat arthritis, mallet finger, swan neck, trigger finger or trigger thumb, and hyper-flexible and broken, jammed, or crooked fingers. The splints can be worn all day and/or night and are waterproof so they can stay on during handwashing and bathing. Each splint has an angled band that allows each splint to fit tighter or loose depending on which end is put on the finger first.
Mindfulness and Anxiety Relief Coloring Books
Adult coloring books have grown in popularity over recent years with many variants now focused on mindfulness. Some studies have shown that coloring has the ability to relax the fear center of the brain known as the amygdala, and induce the same state as meditating by reducing the thoughts of a restless mind. These coloring books feature intricate patterns, often times grounded in nature, that help users take a few minutes from their busy lives to focus on the simple task of coloring. Many of these coloring books are printed in pocket-sized editions to make them easy to take anywhere.
Headache Hammock
The Headache Hammock is an orthopedic traction headrest and a natural remedy for most headaches, including certain types of migraines, as well as upper neck pain and muscle tension. The headrest is patterned after a widely used therapy technique known as the occipital lift. The Headache Hammock's design mimics this therapy and allows users to massage muscular pressure points in the upper neck, enabling headache and neck pain sufferers to regularly and effectively treat their pain at home. The hi-density foam allows the Headache Hammock to be warmed or cooled to enhance the therapeutic effect. The product can help to manage pain in as little as 10 or 15 minutes.
DFX Powerball Sports Pro Gyro Exerciser
The DFX Powerball Sports Pro Gyro Exerciser is a precision instrument capable of speeds over 13,500 RPM to provide a relaxing and effective way to strengthen your grip, wrist, forearm, and biceps, as well as improve coordination without strenuous exercise. Powerball's are proven to help aid in the prevention and elimination or Carpal Tunnel, arthritis, tendonitis, tennis elbow, and other repetitive stress injuries. The DFX Powerball comprises a balanced hydroscopic rotor inside a compact sphere of polycarbonate plastic. The product weighs two pounds and can provide up to 35lbs of torque.
The 5-Minute Gratitude Journal: Give Thanks, Practice Positivity, Find Joy
The Five-Minute Gratitude Journal, by Sophia Godkin, PhD, was created to make it easy and enjoyable to develop a daily practice through insightful prompts that only take a few minutes to complete. The exercises in the 132-page book are designed to help individuals build better habits, develop a grateful attitude, and find gratitude quickly.
YNM Cooling Weighted Blanket
The YNM Cooling Weighted Blanket was designed to improve sleep while keeping users cool and comfortable. The blanket features pockets filled with the YNM's bead technology and wrapped in a 100% bamboo viscose fabric. The weight from the blanket helps to lull users into a deep sleep and ease stress and anxiety. The blanket comes in kids (one weight option), single (four weight options), double (four weight options), and king (three weight options) sizes and ranges in weight from seven pounds for the kids size up to 30 pounds for the heaviest king size.