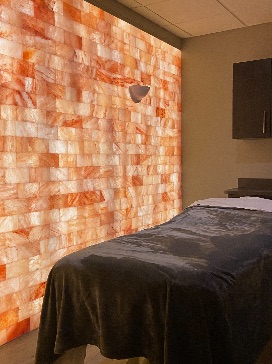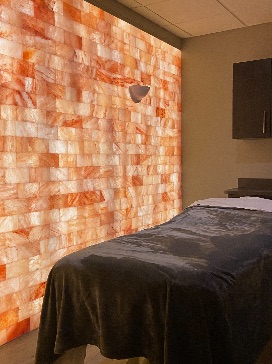 Like most every profession that has had to navigate challenges, the spa industry has learned a lot from the past year. Not only did we have to find new, creative approaches to deliver services to our clients, but the long year of stress and isolation also emphasized the importance of what we do.
Health and wellness are at the center of our industry—and they're something our clients appreciate (and need) now more than ever. As the world continues to open back up, and clients flock back to the spa space, they carry with them concerns from the past year.
So, how do we respond? Here are some ways salt products can help massage therapists and spa owners speak to their clients' concerns so they can get back to the benefits of massage.
A Full-Body Experience with Minimal Contact
For those looking to deliver a full-body experience, halotherapy—or dry salt therapy—is a great option. Halotherapy uses a controlled dry salt aerosol environment that mimics the characteristics of a salt cave is heated, ground and crushed into micro-particles and then dispersed into the air through a halogenerator. Those particles are then inhaled by the spa guest, who may find relief from symptoms such as asthma, sinusitis, acne, dermatitis, eczema, psoriasis, skin aging, skin inflammation, rosacea and more. Halotherapy can be offered as a stand-alone treatment or as an add-on or upgrade to traditional services. Himalayan source's new private halotherapy experience requires minimal human contact while still offering that full-body experience.
Products to Soothe and Protect
Halotherapy isn't the only way to create a safe, soothing experience. Himalayan salt panels added to the walls of treatment rooms may purify the air and may help alleviate some respiratory ailment symptoms. For some spas, this means constructing an entirely new treatment room featuring Himalayan salt walls, and for others it can be as simple as enhancing their current space with a panel or two.
On a smaller scale, Himalayan salt stone products—such Himalayan salt massage stones—deliver minerals and alkalinity to enhance the spa experience while being naturally antibacterial, antifungal and antimicrobial.
Add-Ons to Take Home
Add-ons are a great way to introduce clients to new products or services. Consider offering clients an upgrade to their Himalayan salt stone massage with a salt stone gift. Therapists can also incorporate a heated Himalayan salt hand and foot therapy dome into manicures and pedicures to further enhance those services.
With safety still top of mind for most spa guests, incorporating pure Himalayan salt into the services and products you offer will give them exactly what they're looking for: a calming experience, enhanced wellness and—perhaps most importantly—peace of mind.
Check out these related articles:
Building Client Loyalty… and Trust