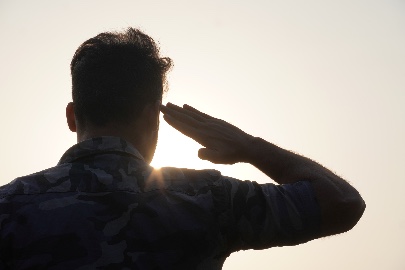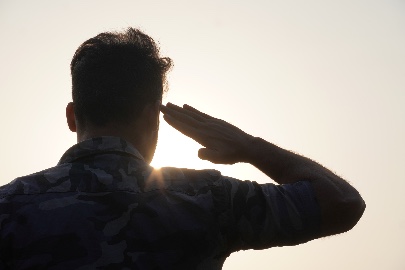 The Heroes We Care For
By Danielle Galian, Contributor
May 3, 2021
The Heroes We Care For
By Danielle Galian, Contributor
May 3, 2021
The physical and emotional pain military veterans live with can be complex. Whether they're suffering from physical chronic pain conditions or those that are less visible, like post-traumatic stress disorder (PTSD), integrative health care is one tool more veterans are accessing to help them better manage pain.
Melissa Ryan, LMT, is acutely aware of how her practice has helped her military veteran clients. She was working in the health care field for over 25 years as the personal assistant to the county coroner, as well as the supervisor of the medical transcription department of her local hospital in Ohio, before becoming a massage therapist.
When Ryan opened her practice, Quality Health Massotherapy, she started seeing a lot of clients who needed help managing the symptoms of chronic conditions, and for some of her veteran clients, those conditions were directly related to their service.
Working with Military Veterans
In the early days of Quality Health Massotherapy, Ryan heard about the United States Department of Veterans Affairs (VA) Community Care Providers network through an event led by the Massage Therapy Foundation. She applied immediately. "I could not get through the credentialing process quickly enough," she remembers. "I have reached out to every VA prescriber in my area, advertised and done every interview I could to make my community aware that this is an option for our veterans."
The work, she found out quickly, was needed. Before long, she began seeing military veterans for a variety of different conditions. "I have been blessed with the opportunity to work with these veterans and I personally have enjoyed the opportunity to hear their stories about their lives before, during, and after their time in the military," she explains. "I truly enjoy the time I get to spend with them."
The most common condition she sees in her veteran clients involve neck and back pain. "For diagnoses exclusive to neck and back pain, I target my work to the area of the body within the diagnosis, as is proper for clinical practice," explains Ryan. Other times, she sees clients who have been diagnosed with PTSD, which requires a special set of considerations to make sure the client is as comfortable as possible given the complexities of the condition. "I approach these cases the way I do all my cases, with compassion and an understanding of their boundaries," explains Ryan. "I adjust the type and volume of music playing in the background, the level of heat on the table, the heaviness of the covers and sheets, and always check-in on what areas of the body they are comfortable being worked on that day."
Ryan takes her massage therapy work with military veterans very seriously and pays extra attention to the treatment space so it's welcoming and positive for her clients. "I believe it is imperative that we keep in mind that many of these incredible individuals have been through tremendous experiences, both good and bad. I always allow them to set the tone for the atmosphere in which they receive their treatment," she says.
Ryan's initial intake process before every session is what's remained key to her clients' overall success over the years. She sees her veteran clients sometimes twice a week, and notes that especially with PTSD clients, communication is vital for a productive massage therapy session. "More than anything, I just reinforce through communication the fact that they get to define what is comfortable for them," says Ryan.
Some of her clients like to chat about their time in the military and some prefer to talk about their lives after service, Ryan notes. And other clients, like those who have PTSD, prefer to use the time to focus on their treatment and relax. "I always allow them to set the tone," she adds.
Collaborating as a Team
Ryan takes that collaboration very seriously, focusing on intake forms and SOAP notes as key drivers to not only measuring her client's progress but also in determining the best course of massage therapy for future visits. "I always approach my SOAP notes in the ways that I had become accustomed to with doing medical transcription for the hospital," explains Ryan. "It is important that we keep our work within the parameters of the diagnoses and physician orders."
Ryan includes the client's current pain and physical limitations, progression in those areas from their last visit, pain level and tolerance both currently and from their last visit, how quickly it took for the pain to come back after their visit, the clients mobility, and general quality of life factors like feeling better throughout the day. "I always address their pain level before and after the session, how long they get relief, what is the level of their pain when it returns, did they get any increased range of motion (if it had been impaired) and whether or not there is an overall improvement in their quality of life," she explains. "For the sake of establishing our role as massage therapists, I always document that massage is being used as an alternative to narcotics."
Ryan notes that most of her clients report being able to maintain a more productive lifestyle and experience an overall better quality of life. "Now, their pain control is more consistently maintained in between the procedures and/or prescription refills that have been made available to them," explains Ryan. "Our veterans are extremely grateful for the opportunity to incorporate [massage therapy] into their health care."
Why the Work Matters
According to the U.S. Census Bureau, there are over 18 million military veterans currently living in the United States. For Ryan, the work being done to help the veteran populations in need of integrative therapies like massage is never-ending. "I would advise anyone who promotes a health care oriented practice to consider working with veterans," says Ryan. "These folks need us on so many different levels."
For more information on Melissa Ryan, visit her website.
From Melissa Ryan's Clients:
Robert Clancey fought in the U.S. Army and has been seeing Ryan every week since August 2020 for chronic back pain. "I've been going through physical therapy for 10 years to get my back straightened out," he says. "But since adding massage therapy, it just helps me get through the day. I take it day by day."
Clancey credits Ryan's caring approach to massage that's given him greater ability to manage his pain. "I wouldn't wish this pain on my worst enemy. Melissa works caringly and encourages me to keep up with my physical therapy stretching exercises, too."
Michael Bongart fought in Vietnam. He sustained injuries from shrapnel to his skull when his helicopter was shot down. Thankfully, a medic was nearby to help resuscitate him. Today, he has chronic neck and low back pain as the result of that injury. "I've been seeing Melissa for massage therapy for almost a year and it's helped me more than physical therapy and chiropractic care," he says. "[Melissa] was able to identify the muscle that needs work. And it's helped a lot to feel better."
Check out these related articles:
Sharing the Benefits of Massage Therapy