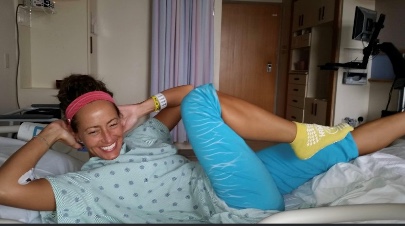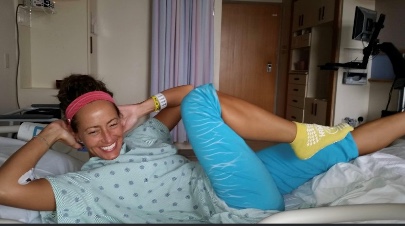 Strength & Resilience: Practicing Massage Therapy with Multiple Sclerosis
Strength & Resilience: Practicing Massage Therapy with Multiple Sclerosis
When Elizabeth Cain, GTS, CCT, LMT, flew back home from a weekend getaway with friends, she looked forward to a typical workweek and her usual three-mile morning run. That Monday was no different. But, she remembers, something felt off. "I felt like I was running on a side incline the whole time," she says. On Tuesday, her vision was blurry. On Wednesday, her vision was so blurry that she had difficulty with simple things, like when it was OK to cross the street. As the week progressed, so did her symptoms. She didn't know it at the time, but that Saturday she would be diagnosed with multiple sclerosis (MS), a disease where the immune system starts attacking the body's nervous system.
Passion as a Profession
Cain graduated from the Indiana Wellness College (School of Sports and Medical Massage) and has been a massage therapist for nearly 10 years. Being diagnosed with MS six years ago didn't change her passion for massage therapy, and she continues to operate her massage therapy business, Indy's Elite Massage LLC, in two locations. An active member of massage professional organizations, including being the president of the American Massage Therapy Association's Indiana chapter, Cain is dedicated to learning. "I'm also a Graston technique specialist and certified in advanced cupping," she explains. "So, I can easily customize and tailor each session to fit my client's needs."
A lifelong athlete, Cain thrives in physical endurance activities and participates in marathons across the country. "I can't tell you how amazing it is to train for a marathon and run past the finish line," she says. Her keen understanding of clients who have sports-related injuries also helped her find deeper meaning in the profession.
Living—and Working—with MS
Before Cain's MS diagnosis, her massage therapy business had a two-month waiting list. These days, her work schedule is a little different. Cain works three to five days a week, accepting a maximum of five clients per day. "When I was cleared to work, I slowed down," she says. "Unfortunately, I wasn't allowed to drive or work the first few weeks after discharge." She explains how it took her a month after her diagnosis to start feeling "normal" again. "I take 30-minute breaks between each session. So, if my body is tired, I will rest 20 minutes before my next session."
In addition to rest, she also helps clients, who are very curious about her diagnosis, understand more about MS and what it means. "They always ask me about my story," she says. "But most of my clients don't even know I have MS. So if the topic comes up, I'm always happy to share."
There are a number of specific adjustments Cain has made to her daily practice. One major change has been to not use heat on the massage table, since that helps keep inflammation down for both her and her client. "I'll also incorporate some peppermint oil, if the client wants," she says. "Peppermint is a cooling agent that also helps keep inflammation down. It's also an energy booster." Even with the challenges presented by MS, Cain feels excited and motivated to keep practicing massage and helping her clients.
Advice for MS Sufferers
The last six years have opened a whole new world of insight and community for Cain. She credits her can-do attitude and positive spirit as driving forces for her as she continues to navigate life with MS. She's also narrowed in on some general tips to keep in mind if you or someone you know has MS:
• Listen to your body.
• Rest when you're tired.
• Don't burn yourself out.
• Take a break.
And if you're a massage therapist, take a break even if it means adding 15 minutes in between clients.
Take Care of You, First
"As a massage therapist, if you don't take care of yourself first, how will you be able to take care of your clients," she adds. High amounts of anxiety and stress can cause flair-ups of Cain's MS symptoms, such as slurred speech, lost/blurry vision in her left eye, and loss of balance.
To help de-stress, Cain tries to relax. "I have received massages a few times; definitely not as much as I'd like to. I like to relax the entire 90 minutes. I take a deep breath, close my eyes, and let my massage therapist work. My body is always grateful for it." Gratitude keeps a lot of people motivated, and it's not different for Cain, who has a genuine zest for life, even with all its challenges. "I am grateful that I get to do what I love to do," she says. "I have a passion for helping people and I learn a lot from others."
Did You Know?
March is MS awareness month. To commemorate the monthly observance, an orange ribbon is worn (or the color orange). You may also notice an image of a butterfly used alongside the orange ribbon. According to Multiple Sclerosis News Today, the butterfly symbolizes the MRI scanned image of the brain affected by MS. That image is often seen in the outline of a butterfly. This imagery is also used to symbolize changes and unpredictability, similar to symptoms experienced by those living with MS.
Check out these related articles:
Massage Therapy, Occupational Stress, And Emergency Medical Services Staff