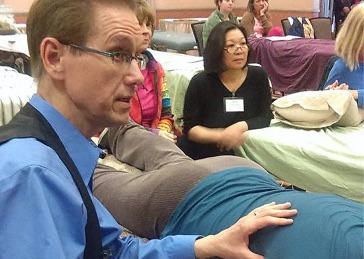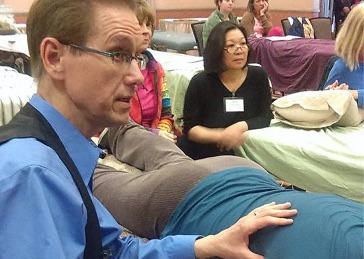 How Massage Therapy Research Helps Advance the Profession
How Massage Therapy Research Helps Advance the Profession
When I was asked if I would be interested in being the President of the MTF, I said "no," not just once, but multiple times. Why the initial hesitancy?
Of all of my roles within the field of massage therapy, the role I feel most strongly identified to is that of massage therapist. While many of the past presidents of the MTF were very accomplished researchers, I am most comfortable in my treatment room seeing clients with musculoskeletal pain and discomfort, and so I wondered: What value could I bring to such an important position?
Insight and Opportunity
As time went on, however, I realized that my primary perspective as a massage therapist could actually be the most important contribution. Many years ago, I would have told you that research is kind of important but mostly done by people with advanced degrees and seldom directly connected to my daily practice. Does that sound familiar to you?
As the years went by and I continued to focus on my practice and clients, the ways in which research dovetailed with my practice became more and more evident. When I saw clients with a condition that was unfamiliar to me, I found myself going to the International Journal of Therapeutic Massage and Bodywork (IJTMB) to read a case report and learn from the experience of other massage therapists. When I didn't know enough about how to approach a problem, I found myself scouring the literature for new insights. When I spoke to other health care providers, I sought out working knowledge of the research literature, which was an invaluable tool for conversation and connection.
Looking back on that evolution, I decided to finally say yes to the challenge of accepting the presidency of the MTF, keeping the perspective of massage therapists front and center in my work here.
Looking Ahead with New Initiatives
As my term comes to an end, these last three years have only strengthened my commitment to the important role of massage therapy research literature in the profession. There are many examples of initiatives from the MTF that positively impact the daily practice of massage therapy. Following are a few highlights.
-MTF recently completed an ergonomics project, yielding a treasure trove of insights that will likely help individual therapists lead longer, healthier and more productive massage therapy careers. It is an example of a real-world study, using massage therapists in their regular settings that may have a tremendous impact in the field.
-How many of us have massaged someone who, due to injury or a health condition, cannot maintain an adequate activity level? Can massage really prevent atrophy and help these people maintain some muscular health when activity levels are very limited? This is exactly the question that researchers from the University of Kentucky will explore using initial funding from the MTF. If the research supports the idea that massage can help people dealing with restricted activity, think of the tens of thousands of people that would be positively impacted. Learn more about this study by viewing the Research Perch episode where we talk about this study.
-A current Research Perch (video interviews with poignant topics) interview with Blessing Hospital staff in Quincy, Illinois, was fascinating. This hospital, through the vision of one passionate physician and its CEO, decided to hire five massage therapists to make the hospital experience better for patients and providers alike. What they created was quite remarkable, as is the feedback from patients. Perhaps most importantly, this interview might inspire other hospitals to do the same, potentially providing jobs for hundreds of massage therapists. Watch the Research Perch episode.
-In the therapy room, the first task is to listen to the client and hear their needs and goals for the massage session. In the same way, we at the MTF listened to the needs of educators at the American Massage Therapy Association's 2018 Schools Summit. What they wanted was help and guidance in teaching massage research. They wanted prepared lesson plans that would easily help educators present the material without hours of background research. We returned a year later with the Instructor's Guide to Teaching Research, an E-Book, available to any educator. The cost? Completely free—made possible by individual donors like yourself. You spoke, we responded.
-Massage therapists have a goal of making a difference in the lives of the people who grace our treatment tables. Few experiences are as satisfying as knowing you made a positive impact in someone's life. The MTF's Community Service Grants are one example of direct impact with people who need the benefits of massage therapy but lack access. Serving on the Community Service Grants committee was my first assignment as an MTF volunteer. Reading the grant proposals was incredibly inspiring as it exemplified how we are a giving and caring profession. The hardest part was having to select only a few to be funded when so many were worthy of our support. It was, and continues to be a heartwarming philanthropic aspect of the MTF. While many of these grants were within the borders of the United States, dozens were in global destinations. Reaching beyond borders is also exemplified with our collaboration with the Registered Massage Therapists of British Columbia (RMTBC). Not only have they been wonderful partners in helping support IJTMB, our peer-reviewed research journal, they are also active partners in idea generation and implementation. We relish their insights and commitments to the field and look forward to other collaborations across the globe and with other health professions.
Continuing the Positive Impact on the Profession
Tomorrow morning, when I go back in my treatment room, I will take great pride and solace in the knowledge that I am part of something much bigger than myself. The work of the MTF has given me resources to help serve my clients more effectively. In return, my support of the MTF enables me to serve the profession by supporting research, education, and community service projects that positively impact the profession.
We massage therapists bring much good into the world, and the MTF is a tremendous resource to multiply that effect for generations to come.
Did You Know?
The Massage Therapy Foundation celebrated its 30th anniversary in 2020!
President Douglas Nelson, along with incoming President Robin Anderson, both hosted a virtual celebratory event last year to commemorate the hard work taken on by volunteers and educators. The event included a retrospective on MTF's history, highlighting key moments along the way.
You can still watch MTF's Virtual 30th Anniversary Celebration.
For more information, visit MTF's website.
Check out these related articles:
Research and the Massage Therapy Profession