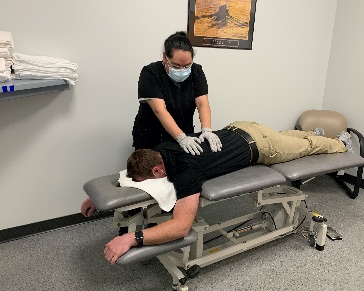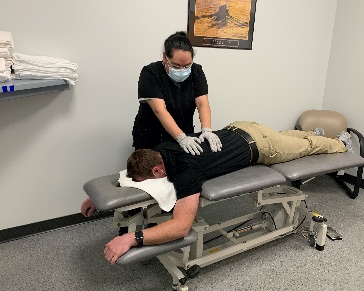 Elisa Gonzalez, LMT, CMT, first discovered her passion for massage therapy a little over a decade ago. At the time, she was in a bit of a rut. "I knew I had a gift for helping my friends and family feel better by massaging their neck or shoulders," she says. "But, I didn't know how I could turn that into a career for the long-term."
Exploring career options in her native Austin, Texas, Gonzalez soon found Texas Healing Arts Institute (THAI), where she felt she could combine her love of helping people with a sustainable career option: massage therapy. "Every single one of my instructors was amazing," she remembers. "My entire experience at THAI was one of the best parts of my life, leading to life-long friendships."
After graduating from THAI, she got her start in the massage therapy profession working alongside Dr. Robert Hausman, owner of Hausman Chiropractic and Acupuncture, where she stayed for six years working on a wide range of clients before an opportunity for her partner in Kansas meant making a big move.
New Opportunities: Hospital-Based Massage
Arriving in Kansas without a job, Gonzalez hit the ground running and quickly found an opening at Russell Regional Hospital in Russell, Kansas, that seemed like a good fit. The problem? The job wasn't for a massage therapist. But, Gonzalez felt her massage therapy experience would be a good fit so decided to apply anyway.
When she applied, she had no idea that Russell Regional Hospital had a massage therapy department in the past and was more recently looking for ways to restart that work. So, when they reached out to offer her a job as a massage therapist, Gonzalez was both surprised and excited. "I was so honored to be considered for this job that they weren't even hiring for," Gonzalez remembers. "After looking at my resume, [Russell Regional Hospital] thought it would be great to bring back massage therapy services and I seemed like a great fit."
Today, Gonzalez is the only massage therapist at the hospital and she works as part of the physical therapy department. Her previous work in a chiropractor's office helped make transitioning to clients coming to the hospital's physical therapy department less difficult, as she was familiar with some of the issues patients might be experiencing. "The biggest difference in working in a hospital setting is the formality," says Gonzalez. "Each patient that comes in for massage therapy is checked in and I am paged to come to the front desk and bring them back to the treatment room."
Gonzalez admits that working at the chiropractor's office, while still formal in its overall process, was a little bit more "homey" in its feel. "When I'm not working with patients at the hospital, I am assisting the front desk staff with insurance processing or scheduling so I'm always busy, which is a great thing."
Of all the changes Gonzalez has experienced in the last six months, she says it's comforting seeing how similar the reception to her is in any environment. "All the staff at Russell Regional have been nothing but welcoming to me," she says. "It helps me in knowing I made a great decision in accepting this position here."
She also credits her education and skills learned that continue to guide her work at the hospital. "I have been able to retain all of the tools and knowledge I was given in school and from my peers to use on my patients/clients," she says. "It's so fulfilling being able to extend that and help anyone I work with and in seeing how I can apply those skills and actually help make change."
Practicing During A Pandemic
Gonzalez has been working at her new position for six months, and as in most workplaces, COVID-19 has changed how she is practicing massage therapy. "COVID-19 has definitely slowed down the number of people coming through the door," she explains. "There have been slow periods and then periods of being really busy. I am thankful for a time of rest while it is slow; and equally thankful to be busy when those days occur."
Gonzalez and her coworkers have been doing everything they can to mitigate the risks for both themselves and their clients. "You can never be too safe," she says. "In my department, all of us are trying to continuously make sure our patients are being protected while in the hospital. We continue to practice social distancing within our station and during our lunch times, for example."
Her clients have ranged in response from feeling very comfortable coming in for massage therapy to holding off appointments a little longer. "We have had clients that feel very comfortable in a hospital setting while doing their physical therapy and coming in for massage," she explains. "But, some clients feel it better to hold off on things and wait until numbers in cases of COVID-19 seem to be a little more controlled."
Seeing the Bigger Picture
The pandemic has also reinforced the importance of self-care, a commitment Gonzalez has taken seriously since the beginning of her massage therapy career. "We learned in school that 'less is more' and it's also something I apply to other areas of my life," she explains. "If you're overexerting yourself during a session, try to reassess what you may be doing in an effort to work smarter, not harder."
Gonzalez wants other massage therapists who work in hospital settings to feel less alone. By practicing relaxation techniques whenever you can, both you and your client will see the benefits. "Remain calm as [COVID-19] can create a bit of a panic or bring on feelings of anxiety," she says. "Keeping faith will help you see this through."
Looking ahead to the next 10 years of her career, Gonzalez sees nothing but the same—the relationships developed with her clients, the devotion to her career, and the joy she receives from helping others who need it.
"Success to me is in the smile, feedback, and appreciation of your client every single time they walk out of that room," she says.
Check out these related articles:
Finding the Meaning in Your Work