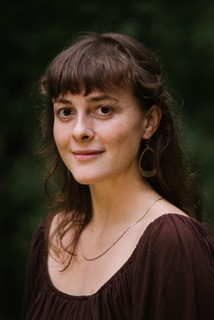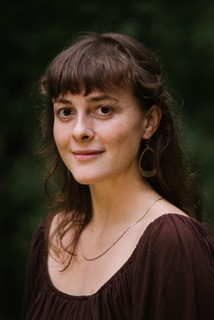 Danielle Eden Hill, LMBT, is a licensed massage therapist working in North Carolina. She completed her training at the Asheville School of Massage & Yoga and currently works at two massage studios.
Born into a family of clockmaking artists, Hill is accustomed to people who make their living by working with their hands. She graduated from the University of Vermont with a bachelor's degree in geology and music in 2015. She traveled around the world, worked in organic/biodynamic agriculture, and furthered her study of both music and yoga, experiences that helped lead her to where she is now, pursuing a career in massage therapy. "My love for working with the Earth expanded throughout the years, and I felt called to work with the human body as well," Hill says.
This calling was personal in the beginning as she worked on her own body mechanics, which helped ignite her interest in craniosacral therapy. "After feeling the cranial rhythm for the first time, this concept began to crystallize before me and the gentle but powerful and intentional method of working with the body resonated with me," explains Hill.
Hill recalls her peers and educators as bright spots in her massage therapy education, and sources of continued inspiration. "We were able to work directly with the community for the majority of our schooling through the student clinic," she fondly remembers.
Creating Meaning in Tough Times
There are a number of causes close to Hill's heart. However, this past year has taught Hill a lot more than she imagined in regards to bringing health care closer to home. Over the summer, Hill's father passed away after suffering from central nervous system lymphoma, a rare form of brain cancer. "Our family chose to take care of my father at home rather than let him spend his last months alone in the hospital," Hill says. "Being a part of in-home-hospice was simultaneously liberating, extremely difficult, and an important part of our mourning process." This experience showed her how integrative approaches to health care continue to be extremely limited and difficult to navigate, which made pursuing education in a hands-on career like massage therapy even more important for Hill.
"I am grateful to have been able to provide massage therapy for my father throughout his last months. I am grateful to have been able to understand the gravity and importance of this form of health care. I am grateful to have been born at home, into the hands of my father, in the same house in which he eventually passed away," Hill says.
Additionally, COVID-19 has reinforced Hill's commitment to massage therapy. Like many people, she takes great interest in environmental and social issues currently affecting our world. COVID-19 taught Hill the importance of touch and how to maintain connections even when hands-on work is prohibited.
In relation to distance learning, the touch aspect of her studies reinforced the power of effective educational platforms. "I was lucky, COVID-19 only affected the last two weeks of my 675-hour program, which happened to be our business block," Hill says. "If the pandemic has shown us anything, it is that we are creatures of connection. Touch is vital to both our physical and emotional health." Hill's advice in getting through the pandemic is to use the time given to advance self-practice and work on creating balance in health every day.
A Job Well Done
This year, Hill was awarded the American Massage Therapy Association's (AMTA) 2020 Massage Therapy Journal $5,000 scholarship for her dedication and commitment to the profession of massage therapy. Hill only feels grateful when asked about her award: "This [scholarship] not only allows me to pursue continuing education courses, but also allows me to prioritize massage therapy and give my full time and attention to deepening my craft."
Continuing her education in massage therapy is a top priority now more than ever. Hill took side-jobs throughout her massage therapy education to help pay for her courses, something that she now can pull back on thanks to the scholarship.
Looking Ahead
Success looks different to everyone. For Hill, success means continuing her relationship with education, her community, and causes close to her heart. "No matter what road this career takes me down, giving back to my community, creating a ripple of momentum towards social and environmental mindfulness, and feeling mutually energized by the work I do, counts as success in my book," she says. That, tied with her continuing to learn and grow within the profession of massage, fuels her passion for the future in massage therapy.
When asked what advice she has for young people looking to pursue massage therapy as a career, Hill's answer is simple: "Seek out a holistic program that emphasizes self-care and body mechanics, as well as in depth anatomy, physiology, kinesiology, pathology and ethics. Taking care of your body, mind and soul are important aspects of being a great practitioner. Developing strong self-practices to sustain your own well-being, through school and beyond, is vital."
Hill encourages those feeling nervous about taking the first step in massage therapy to remember it as "a beautiful journey" that you can share with the people you love.
Check out these related articles:
The Value of Higher Education: Jeffrey Montoya, PhD