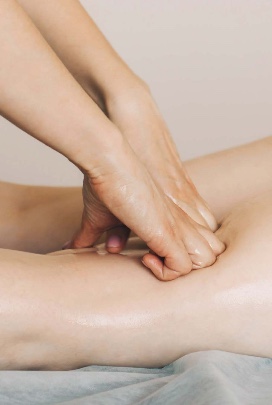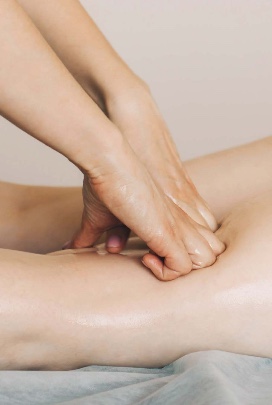 Massage Therapy and Delayed Onset Muscle Soreness
Massage Therapy and Delayed Onset Muscle Soreness
Written By: Arthur Veilleux, PT, DPT; MK Brennan MS, RN,LMBT (ret), Delhia Gaynor, MT (ret)
This month, the Massage Therapy Foundation writing committee members are reporting on a recent double-blind study on the effects of post-exercise massage on passive muscle stiffness published in the open access Journal of Sports Science and Medicine in 2018. Lead author Pui W Kong and her team at the Physical Education and Sports Academic Group, National Institute of Education, Nanyang Technological University, Singapore, contribute to our understanding of the role of massage in the management of delayed-onset muscle soreness (DOMS) as a result of athletic activity.
Massage therapists who work with athletes are likely to see clients who have experienced DOMS. Those who provide post-event sports massage will likely encounter athletes who develop symptoms of DOMS within 24 to 48 hours. It is important for massage therapists to understand the best treatments and recommendations for these clients. In this current study, Kung et al. note limitations in prior studies looking at massage for DOMS, indicating that earlier studies did not use eccentric muscle exercise protocols, which are known to induce a greater degree of DOMS, measured only immediate or short-term effects of massage (up to 30 minutes), and did not use control groups. Thus, the aim of this study was to determine the effect of post-exercise massage on passive muscle stiffness over a five-day period following an eccentric exercise protocol and including placebo controls. As a secondary measure, they also obtained reports of muscle soreness. The team hypothesized that massage would be more effective than a placebo treatment in alleviating altered muscle stiffness induced by eccentric exercise.
The Study and What the Research Says
Eighteen healthy male recreational runners with an average age of 24.9 were recruited. Participants had one leg randomly assigned to massage and the contralateral leg to the placebo treatment, which consisted of inactive therapeutic ultrasound as a control. Baseline measurements of perceived muscle soreness, muscle stiffness and plasma creatine kinase were measured.
To induce muscle soreness, each participant ran downhill for 40-minutes on a treadmill at a grade of negative 10 degrees. Post-run measurements were taken 30 minutes after the session. Participants received massage and placebo treatments 1.5 hours after the run for 32 minutes (16 minutes per leg) in a randomized order. Stiffness and soreness were reassessed immediately after treatments, and again at 24, 48, 72 and 96 hours post run. A standardized Swedish massage including effleurage, petrissage and tapotement was provided to the quadriceps, hamstring, tibialis anterior and gastrocnemius muscles. Muscle stiffness was measured using a hand-held myotonometry device. Perceived muscle soreness was measured using an 11-point scale. Blood samples to measure creatine kinase confirmed that the protocol was effective in inducing muscle damage.
What the Findings Say
The main finding over the five-day trial was that there was no difference between massage and placebo treatments for three out of four muscles tested. For the tibialis anterior, the immediate post-treatment muscle stiffness was less in the massage than placebo leg, however, this was not statistically significant. No differences were measured in perceived soreness at any time during the study. The authors note that their findings indicate no long-term benefits of a single session of post-exercise massage on elevated muscle stiffness in major leg muscles when compared with placebo. There may be a subtle beneficial effect for the tibialis anterior, however.
In discussing the results, the authors note that the eccentric protocol used to induce muscle soreness resulted in substantial muscle damage and massage may have an effect on exercise that is less damaging. They acknowledge that Swedish massage, though commonly practiced, may be too gentle to produce a sufficient therapeutic effect. They recommend future studies investigate the effects of different massage techniques on muscle stiffness. Furthermore, they suggest that there could be a cumulative effect of multiple massage treatments on recovery. They also considered that the placebo treatment of inactive ultrasound may have produced pain modulation and recommend controlling for this in future studies.
Looking Ahead
What can be learned from this study and how should it inform how massage therapists work with athletes? First, that this study does not support post-exercise massage for muscle stiffness or soreness under these specific conditions does not mean that massage should be abandoned. Support for massage for DOMS has been found by Dupuy, Olivier, et al (2018) and Han, Jun-Ho, et al (2014). In reviewing evidence, both positive and negative, we hone our understanding of effectiveness. Second, there is more to massage than the treatment provided in this study. Stretching, a common aspect to sports massage, was not included. Third, beliefs in massage for muscle recovery, as shown by Moraska (2013), can contribute to non-specific benefits of treatment. During these weeks and months of uncertainty due to the pandemic, when sporting events are not regularly being held, there are opportunities to look at the research available and consider the best approaches and benefits of post-event massage.
References
Dupuy, Olivier, et al. "An Evidence-Based Approach for Choosing Post-exercise Recovery
Techniques to Reduce Markers of Muscle Damage, Soreness, Fa­tigue, and Inflammation: A
Systematic Review With Meta-Analysis." Frontiers in Physiology, 26 Apr. 2018. PubMed,
doi:10.3389/fphys.2018.00403. Accessed 11 May 2020.
Han, Jun-Ho, et al. "Effects of therapeutic massage on gait and pain after delayed onset muscle
soreness." Journal of Exercise Rehabilitation, 30 Apr. 2014. PubMed, doi:10.12965/jer.140106.
Accessed 11 May 2020.
Moraska, Albert. "Massage Efficacy Beliefs for Muscle Recovery from a Running Race." The
International Journal of Therapeutic Massage & Bodywork, vol. 6, no. 2, 18 Mar. 2013. Massage
Therapy Foundation, doi:10.3822/ijtmb.v6i2.165. Accessed 11 May 2020.
Check out these related articles:
Massage Therapy in Times of Uncertainty
Massage for Pain Management in Hospital Settings