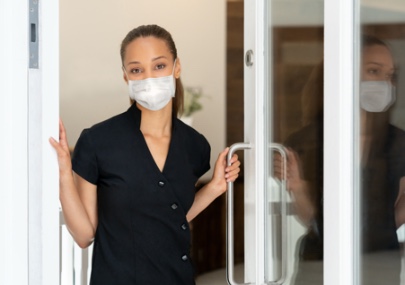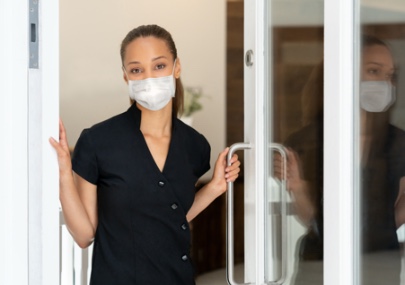 Massage therapists are in the business of helping people through the power of touch. We've seen the disruption in the profession with COVID-19. But that doesn't mean you aren't called to your profession in the time of increased precautions. In fact, many massage therapists report feeling more drawn than ever to support the health of their clients who have had their lives changed for various reasons. Whether clients are working remotely or have had increased stresses due to the pandemic, sharing stories of feeling like the gateway to helping people feel more like themselves.
We've also seen how you're dealing with increased precautionary measures within the walls of your practice. Whether through staggering of clients, increased personal protection equipment (PPE) such as masks and gloves, or having clients fill out intake forms completely online, these changes and alterations have helped you re-imagine the massage therapy environment.
Going Back to Work
This got us thinking: how are massage therapists navigating their practice during this time? As states enter into various phases of reopening, we've seen massage therapists open up their practices and begin working with clients. We asked what it's like returning to work and what types of changes you've implemented.
Holly Brewer
"I've been back at work for about a month [in Roanoke, VA]. We're doing extra cleaning, having people wash their hands before being serviced, and wearing face masks."
Katy Schrupp
"Ultraviolet light (UVC) each treatment room and shared spaces daily, staggering appointments to promote social distancing limited to 10 people in the building at any given time."
Charles Jeffery Parker
"As far as the actual practice is concerned, massage therapists are required to adhere to the state guidelines for returning to work. Therapists are required to wear a mask (while wearing a mask is optional for clients). On the first day back, I had one client wear a mask to the spa but removed it for her service. Another client wore her mask during her service as she works in health care and felt it important to become accustomed to wearing it. And one client arrived without a mask. Our spa is a new startup, having opened last November, so we weren't as busy as other locations. Now that we have reopened, our first push was to get current members coming back before opening up for prospective new members. The new cleaning and sanitation protocols require additional time between clients, therefore reducing the number of clients the business can have in the workday. Most of the paperwork is being completed via email. Clients call from the parking lot upon arrival and receive a text message when the therapist is ready for them."
J.D.
"Wearing gloves and a mask. We have a vinyl sheet (mattress protector) on the massage table and a pillow protector with four sheets of split paper towels (two halves left, two halves right) on the face cradle in order to be able to use more astringent cleaner. Hand sanitizer is required for clients to use prior to massage."
Carol Laverriere
"Everything is different today. Temperatures are taken, I wear a mask and gloves. The client wears a mask into my office. Then we spray and clean after each client leaves. Changing the linens was always done but now I spray with disinfectant everywhere. It's a protocol people must follow to continue doing their jobs. I am grateful that I can once more be a facilitator in the process of healing.
William Hammett
"I've been back for a couple of weeks. The Georgia state board and governor gave no specific protocols. We are wearing masks and gloves, doing extra cleaning, taking one client in the building at a time, changing linens, including the blanket, for each client and I'm changing my clothes, too. We upped our gap between clients from 30 minutes to an hour. Since the first wave barely slowed down and is now continuing to climb, I'm only booked out through the end of July."
Stacey George
"There is more wiping down with cleaner. The client and myself are wearing masks and we're taking one client in the building at a time. We're taking temperatures and clients are washing hands before services"
Denise M. Logsdon, a 32-year veteran of the massage therapy profession, recently shared her thoughts on various methods and recommendations for massage therapists as they navigate COVID-19 within their practice.