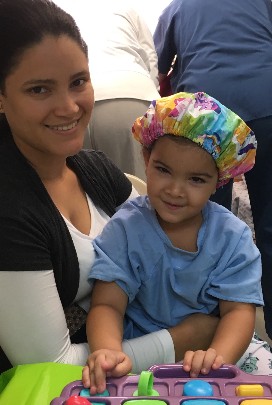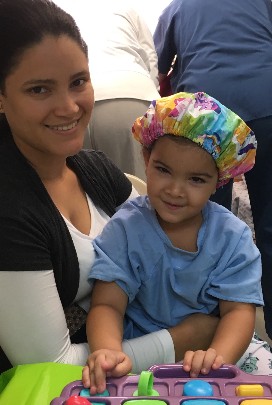 The period of time surrounding a planned surgical procedure can be very stressful and anxiety provoking for both pediatric patients and their families.
The operating room and procedure itself is often confusing. Children are a very different patient population in relation to surgery. As compared to adults, they may not have full understanding of the procedure, any risks, or the worries their parents may have. The terminology used is often unfamiliar, and the unusual smells and sounds are often stressful.
Having good support prior to a surgical procedure can make a huge difference for pediatric patients, their family and health care team.
Stephanie C. DeMarco ASN, BS, MS, RN, of Cohen Children's Medical Center part of Northwell Health, is a pediatric specialty nurse with education in pediatric massage. She currently focuses her work in the hospital within the department of PreSurgical Testing. Recently, Stephanie was invited to join the VHP Mission (Volunteer Health Program) in the Dominican Republic.
ABOUT VHP MISSION
This work was started more than 20 years ago by The Della Rocca Family and involves medical teams from the United States traveling to Santiago in the Dominican Republic to help provide health care to children and families affected by various eye conditions. During their complementary clinics, they provide eye exams, health exams, and eye surgery.
In one week, the health care team provides more than 400 eye surgeries, including strabismus, cataract, plastic and pterygium. During the most recent mission, the health care team did patient screening and primary eye care on a total of 1,214 people. "The impact is amazing. People travel days, never complaining about the wait—and in the end—they can see things some of them have never seen in their lifetime," DeMarco says. "It is truly amazing to see such a transformation."
In the Dominican Republic, there is a high prevalence of strabismus and congenital cataracts in children. With this health care team, the children and families have access to life changing opportunities.
PERSONAL TRIUMPHS
DeMarco recalls a life changing moment during her time with the health care mission. "The first year I was there, I watched an eight year old girl sitting at a table coloring. At first I could not figure out why she was almost poking herself
in the eye with the crayon before she put it on the paper. Then she would lay her head on the table and color," De Marco explains. "I realized she was so blind from having bilateral congenital cataracts that the only way she could see what color a crayon was, was if she put it up to touch her eye. I saw her the next few days after her surgery and it was beyond amazing! She actually picked up a crayon and began coloring like any child."
After experiencing the health care clinic in the Dominican Republic, DeMarco thought about ways to provide care.
The general clinic screens patients for high blood pressure and diabetes. By adding massage to the pre-op routine this year, blood pressures stay where it is safe to take them for surgery without needing additional medications.
In the pre-op area, children and adults wait together and have their vitals taken and then wait until it is their turn for surgery. Sometimes they have to wait as long as two or three hours. There are toys and coloring for the children to engage in, but after about an hour they get very fidgety. This year DeMarco started using pediatric massage as a calming intervention. In her tool kit, she brought a "massage glove". She showed the glove, and demonstrated how it can be used for massage therapy. She asked a child if she could use the glove to massage his back. He was in awe of this "thing" called massage. The little boy took the glove and started massaging his mother and then some of the elders who were waiting for surgery.
"It was amazing. Once I realized what an impact it was having on all our waiting patients and family members,
I decided it had to become part of each patient's process," says DeMarco. "I know now adding massage to the pre-op routine is invaluable."
From that moment onward, after each patient was processed, DeMarco went up to them and offered each a 3 to 5 minute back massage. Some of the teenagers were having their IVs put in right in the waiting room to save time before they went into the OR. For these children, DeMarco stood behind them during the IV insertion process and continued to use the "massage glove" to give them gentle massages and keep them focused more on relaxing than having the IV inserted. The benefits were monumental.
These short massage sessions provided patients with much needed relaxation. "There was no language barrier. It was just about them for the first time in their lives and feeling good!" shares DeMarco.
After using massage therapy as part of the pre-op plan for patients during this year's health care clinic, it is now being implemented as standard. The families that the health care group works with often mention how appreciative they are of what is provided. Now the team has safe and effective interventions to show them you don't have to be rich to be able to feel good, decrease anxiety, and relax.
For health care professionals considering joining a health care mission or volunteer outreach, DeMarco adds, "Going on this trip has been beyond life changing! If you ever said to yourself, 'I wish I could do more, then I say to you, do it!'"