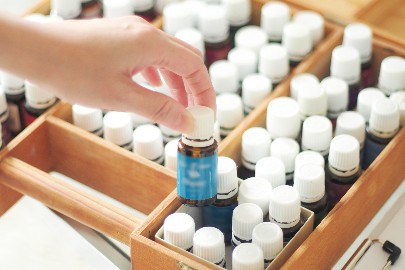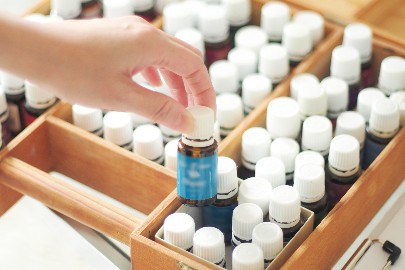 Essential oils can often help shift mental and emotional states, which can be powerful for clients who use massage to help relieve stress or reduce anxiety, for example. As massage therapists, we need to keep in mind that every part of the environment in the treatment room affects how our clients experience massage therapy—including the products we use..
What does this mean for massage therapists who use essential oils in their practice? You need to understand how to choose the best-quality products without breaking the bank. The following easy three-step checklist can help you find essential oils you can trust.
No. 1: Look at the Safety Data. Essential oils are, by definition, the extracted volatile components of aromatic botanicals. More simply: the parts of the plant that create aromas. These components are typically extracted by a process of steam-distillation or, in the case of citrus oils, mechanical pressing of the peel. You might also find products called absolutes on the shelf, which are created by using a solvent, like hexane, to extract the aromatic particles.
Recently, we've seen an influx of carbon dioxide extracts on the market, but I'd caution against using CO2 extracts within a therapeutic setting. Unlike essential oils—many of which have been used and tested for the better part of a century—these newer products have limited safety testing, and that makes a difference. Staying on trend can sometimes feel important, but particularly when working with essential oils that will directly touch a client's (and your own) skin, having assurance that the product you are using is safe is imperative.
Dr. Brent Bauer, director of the Department of Internal Medicine's Complementary and Integrative Medicine Program at Mayo Clinic, notes that essential oils are known to be safe when they are used as directed1, so massage therapists need to be paying close attention to the labels, making sure they are using the oils properly.
No. 2: Know Your Source. Before making a purchase, do some investigate work on the company you're considering buying your essential oils from. How long has the company been in business? What kinds of essential oils and other aromatics do they carry? Do they carry other products? Is there any information on the founder or the owner that you can find?
Then, look at what's on the label. All essential oils come from botanicals, which means the plants should be identified by both a common name and a botanical or Latin name. Reputable companies will also list the part of plant the oil is obtained from, the country of origin and the method of extraction used. Each of these qualities will ultimately affect the essential oil's chemistry and thus, how it will work for both you and your clients.
No. 3: Continue to Build Your Knowledge Base
Continue to build on your knowledge so you can be more precise in your purchases, too. My mother, who now has more than four decades of experience as an aromatherapy educator, now recognizes that some of the first essential oils she used were "probably fragrance oils."
To avoid some of these mistakes—or to ensure you don't continue making the same mistake—seriously consider incorporating aromatherapy training into your continuing education plans. One added benefit of continuing education is you'll work with an experienced aromatherapist and get firsthand knowledge of some of the oils that are available so you can better recognize quality oils..
If you use essential oils in your practice, you want to use scents that help your clients feel good, that goes without saying. These tips will help you choose oils that your clients will love and you'll feel good using.
For insight into how to find the right aromatherapy program for you, see my previous two-part series: The Value of Aromatherapy: Educating Yourself for Success, Parts 1 and 2.
One of the best ways to learn your essential oils is by getting to know the plants they come from. Chances are you can find something aromatic in your yard, neighborhood, nearby park, or if all else fails, a garden store.
Need a perk up? Try finding some Rosemary or Peppermint plants. These are both good mental stimulants (in addition on making great teas!) that are easy to use. When you see one, just gently brush the leaves with your hands and smell them. Notice what the aroma does to your body and mind. I love finding these plants on a morning walk because they are perfect to help me wake up and get ready to start the day.
References
Sifferlin, A. (2018, March) Are essential oils safe? Time. Retrieved from http://time.com/5203122/are-essential-oils-safe/